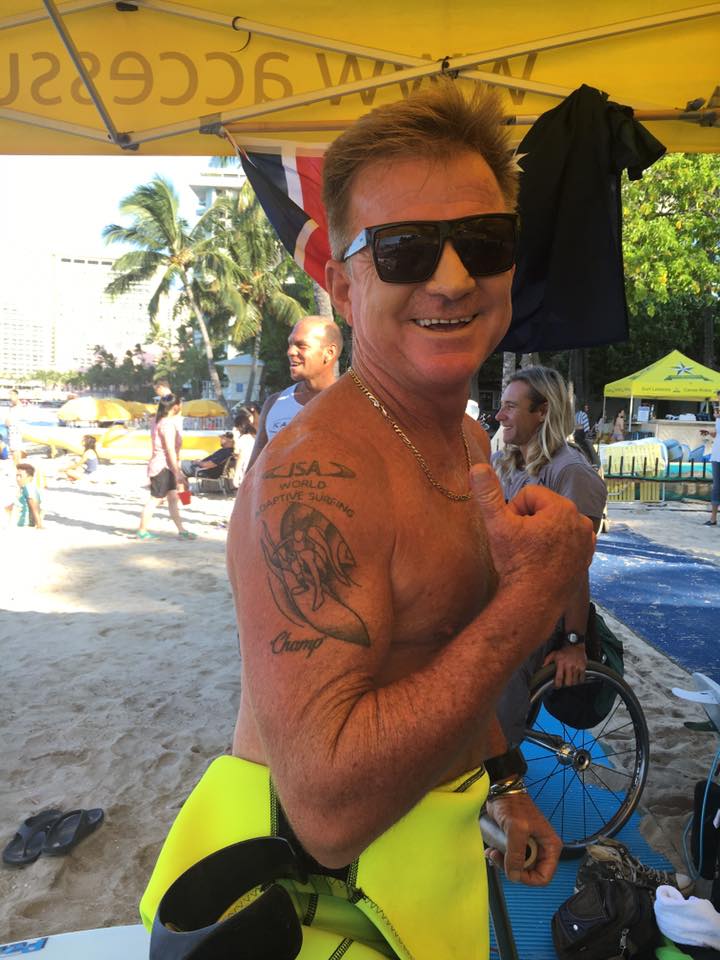 Born Lismore NSW Australia
on 25th December 1963
Raised on a Northern Rivers dairy farm
Lives in Byron Bay NSW Australia
Married to Deb with 3 Children
Mark (Mono) Stewart's passion to surf has been the driving force and determination in his life.
When 'Mono' was fifteen he was told he had Osteosarcoma; bone cancer. He went through a year and a half of chemotherapy after the doctors removed his right leg above the knee.
Mono was born on a dairy farm near Mullumbimby and grew up in Nimbin. As a young kid he had surfing in his blood and his dad would drive him down to Byron Bay to surf on weekends. After he lost his leg he started to work out how he could surf again. He believes it was this passion to surf again that has been his driving force and determination in life.
"I never once thought I was going to die. It wasn't until about ten years later, when I was on a trip to Hawaii, that my mum pulled me aside and told me that the doctors had given me two years to live. I couldn't speak to her for twelve months after that, I was so pissed off. And then I realised that it was probably the best thing that had ever happen because, had I known that I was going to die, I don't know where I would have been mentally. Even though I was sick, all I wanted to do was surf again. That's what kept me going, just wanting to get out and surf."
Mono started to look at ways to get back in the water.
"I got on a boogie board and surfed Main Beach and the Pass for a few years. In about 1977, I wrote a letter to Tracks Magazine asking if there was anyone on the North Coast who could help me out or suggest how I could surf again. A chap called Ronnie Fiddler – an amputee from Cronulla – gave me a shout. He surfed and had developed a knee well in one side of his board. I went around and met him and it all started from there." Mono slowly learned to surf again, first on a boogie board and then a modified kneeboard. Unlike many other amputee surfers, he does not use a prosthetic limb.
In September 2015, at the age of 53, he won the inaugural International Surfing Association World Adaptive Surfing Championship in La Jolla, California.
In June 2016 he competed in the first Australian adaptive surfing titles and took out two divisions to qualify for this year's world titles.
"Surfing's kept me alive and kept me inspired — it's good for the body as well as the soul,'' he said. "It's such a leveller. You can surf with people and they don't even realise you've got one leg until you get out of the water. "I had a young boy come up to me in Indonesia not long ago who told me 'if I ever lose a leg, I want to surf just like you'. It was like wow, pretty heart-wrenching stuff.'
Mono lives life to the fullest and his positivity and tenaciousness is infectious.
"There are so many people that are worse off than me, that inspire me,'' Mono said. "I'm lucky; I'm only missing a leg."