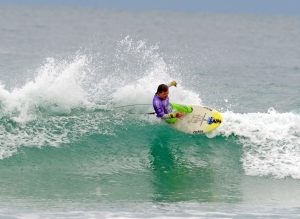 The 2016 Australian Adaptive Surfing Titles were a three day event that aimed to not only crown Australian Champions but gather the Adaptive Surfing community together to meet and discuss how to work together to develop the sport at all levels. The Surfing Australia High Performance Centre provides the perfect location to host this historic occasion which will encompass a Forum, Coaching Clinic and Competition.
Mark Mono Stewart was one of the standout competitors of the event and easily took out the AS2 division with a heat total of 12.66 to give himself a shot at back to back ISA World Adaptive Titles later in the year when the team travels to California to take on the rest of the world.
The three day event included an Adaptive Surfers of Australia (ASA) Forum, Adaptive Surfing Coaching Clinic and a day of competition surfing that decided the Australian Titles.
Results:
Mixed Division Final
Mark Stewart 1st – 9.67 heat total
Dave Munk- 2st – 7.6 heat total
Dean McSporren- 3rd- 6.13 heat total